Testimonials:
just love getting these types of e-mails...
---
Thanks for the response. +2,600 last Friday! Just very disciplined Win/place wagers and very select exactas and trifectas. I have been following you for some time and am a true believer. I have used the AllWays software for years and I like what you have done with it. Limited in time due to work and family and the Rp-XL lets me make solid wagering decisions in 10 minutes a card. Thanks
Steve L.
---
Romeo,
I am a long time customer of your picks, and I plan to purchase your triple crown picks again this year. I wanted to first thank you again for some of your great selections since I've been purchasing your picks. I'll never forget having Ruler on Ice on my 2011 Belmont tickets at 25-1. I understand that your Kentucky Derby picks are a complex and time-consuming process involving Monte Carlo simulations, etc. However, for purposes of putting together some of my Derby plays, I was wondering if your system has revealed yet if it thinks we'll be getting a longshot this year. After three Derby favorites in a row, a price horse would certainly be nice. It's no problem at all if you don't have this information yet, I am just a huge fan of your selections and system, and I was hoping you might have some information since we are only two weeks out. Thanks in advance, and I look forward to purchasing your picks again this year.
Best, Kevin
---
Romeo,
Just wanted to say thank you for the pick 5 ($1,782) and pick 4 ($1,041) winners today at Aqueduct!!! I had 5 of 6 on the Gulfstream pick 6 as well. You are the man!!!!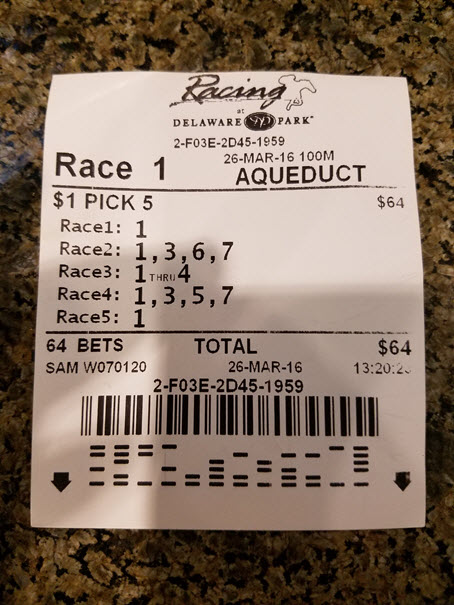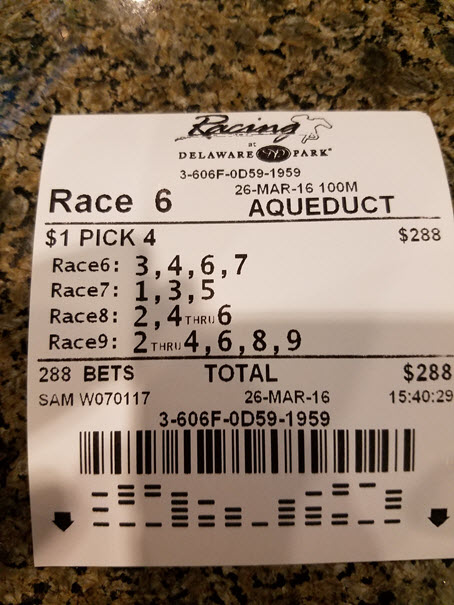 - Dan T.
---
HI. I HAVE TRIED YOU SELECTIONS FOR 2 DAYS AND THE RESULTS HAVE BEEN AMAZING. CAN I SUBSCRIBE TO YOUR SERVICE FOR A MONTH AT A TIME OR ANYTIME. PLEASE REPLY ASAP I PLAYED AT AQU. ON THE WEEKEND AND RESULTS WHERE AMAZING.
- John C.
---
"... you gotta be f****** kidding me! In all of my fifty plus years I have never seen anything like this. I won more money today at the track than I did in over 30 years of playing the horses. THANK YOU, THANK YOU, THANK YOU..."
- Richard R.
---
I just have to share this email sent to me on the eve of the Kentucky Derby... A very classy gentleman. It is people such as Jon that make life very pleasurable and worth it. THANK YOU.
"... One thing you don't need to do is guarantee a win....I've been a follower and definitely a believer for at least 5 years! I love the triple crown season and what you provide in terms of the depth of your analysis is second to none! Tomorrow is like Christmas and tonight I get to open one gift on Christmas Eve! Can't wait for tomorrow and win or lose, I grately appreciate and respect what you do...."
- Jon G.
---
"... your programs uncanny ability to select live longshots is amazing, although not always the top selection, they always seem to be around. Thank you sooooooooooo much, HIT the late Pick-4 at Mountaineer and can thank you for being 6 G's richer..."
- Tom H.
---
Romeo, Just wanted to say thanks for an amazing past 2 days of betting. I hit the hollywood pick 3 as well as the daily double that you recommended with your picks, followed today by the belmont pick 4 you provided. Needless to say, I am so ecstatic. I've been following you religiously since I got home from college for the summer. Thanks again so much...
- Kevin
---
Romeo, Wanted to first of all thank u for the belmont pick 4 yesterday...my friend kevin and I played it exactly as u suggested and had a firm feeling that u were going to hit it before we even placed the bet...we love ur work, and continue to follow ur picks...
...yet another nice hit at belmont yesterday...we once again played ur p4..the 2/4 conditional of course...sad that the 2 had to win the last race but u know what they say, "better to cash em than to trash em." Anyhow thank u once again for ur picks, my friend kevin and I love ur work, and as of recent u have been just brilliant...
- Regards, Rob
---
Thanks for the tampa pix today!!! It feels good to stuff hundreds in the wallet!
- Thomas V.
---
Hello Romeo, I love the new format and i certainly love the results.. Thank You!
- Tom C.
---
I'm sure you know you nailed the Santa Anita Pick - 3 in the 6,7,8, I played it multiple times and played the pick 4 with "all" in the 9th for a hit of ~$9,000+ today, you rock! I've been following you for 2-3 years and look forward to your elite club details, I'd join now if the details were released. I still don't fully understand your system, but learn more as we go. Thank you so much!!!!!.
- Tom O.
---
Ruler On Ice won because of a perfect storm ! 1. Blinkers on 2. Red blood cell count finally back to normal 3. Bends on hind shoes (top three finishers out of the five in the race who wore them) 4. Statistically favored to do so by RP's software!
Thank you so much!!!!!!!!!!!!, you rock!!!!!!!!!
Fabolous winning pick as well as three winning trifecta tickets worth $4,134 each!
WOW,WOW,WOW,WOW..THANK YOU ROMEO111
Nice pick, hit a 10 cent super well done.
Takes a lot to pick a 26-1 as your top pick and nail it. WOW! You got that one cold! Thank you,
At first I thought you were crazy, then I saw how he closed in his previous races and liked the idea of being the only person I know betting on him. Now I'm kicking myself for not betting a lot more on him.One word description, UNBELIEVABLE ! Thanks
Great pick ! I had him across and with 2 in the exacta !
Nice hits Romeo! I am kicking myself for not playing them....
Just reviewed your plays - holllly cow!!!!!!! What a day!!!!
WOW!!! and thank you
LOVE U! great timing too....hit the tri, imagine you did realllllly well...thank you buddy!
Hope you hit it big!!!!! Great job 
Congratulations Romeo!!!!
CONGRATULATIONS ROMEO.... You are the man... I will always stick with you. Couldn't play everything but still won.
Hopefully you hit the $74000 superfecta even though the sheet appeared to miss the 5 horse inadvertently. Your research indicated that you wanted it included. 
- Belmont Stakes Folks